Take the opportunities that we create for exhibitors.
WHO VISITS THE FAIR?
Every year the TOUR SALON is visited by thousands of travel enthusiasts who are looking for ideas for short weekend getaways and longer holiday trips. Our visitors are looking both for offers of organized tours and inspiration for independent trips.
The fair is also attended by representatives of the tourism industry − tour operators, owners of travel agencies, representatives of institutions working for the development of tourism.
IN GOOD TIME
TOUR SALON 2022 will be accompanied by the leading caravanning event - CARAVANS SALON. It is one of the largest and most prestigious events related to caravanning tourism in our country, during which the largest manufacturers and distributors of tourist vehicles in Poland will present their offer.
TOUR SALON TRAVEL FESTIVAL
We invite professionals, travellers with achievements that travel across Poland and to the most extreme places on Earth to cooperate with us. Meetings with them are like a magnet for visitors seeking practical information about places: attractions that are worth seeing, flavours that you need to try or activities which you must do.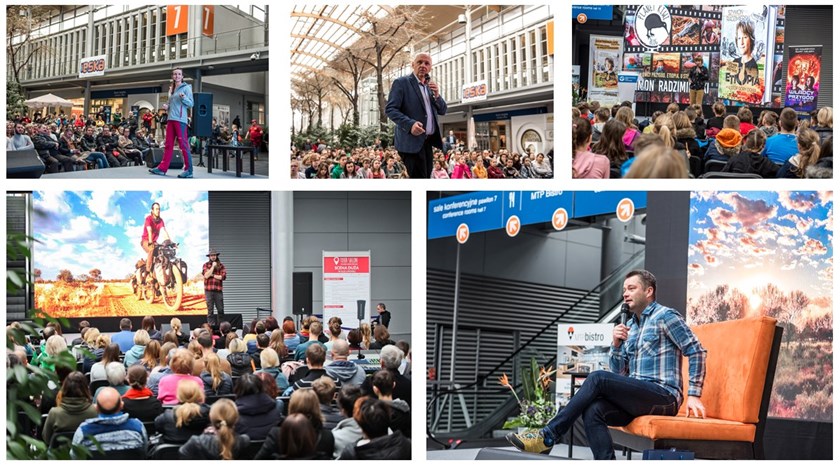 In recent years, during the TOUR SALON fair we hosted, among others, Jaroslaw Kuźniar, Tomasz Zubilewicz, Milka Raulin, Katarzyna Pakosińska, Adam Wajrak, Mateusz Waligóra and Adam Borowicz.
The fair also features the very popular "Following your Dreams" Travellers Festival.
INDUSTRY KNOW-HOW
We keep up to date with what is happening in the travel industry, we talk to our partners and on this basis we organise theme conferences and implement matchmaking and training projects. We also run projects that provide participants with an opportunity to establish cooperation with followers and bloggers, such as the TOUR SALON Blog Meeting.
PROMOTION OF TOURIST ATTRACTION
Registering participation at TOUR SALON fair as exhibitor includes exhibitors space with or without a booth and guarantees a several-month long promotion of exhibitors and their partners (co-exhibitors), for whom dedicated advertising campaigns are carried out, including such services as e.g.:
an individual article on the website in the exhibitor's section at www.tour-salon.pl (Polish and English version)
an article in the news section with a graphic design on the main banner at www.tour-salon.pl (Polish and English version)
an individual post on the Tour Salon fanpage and, in the case of active tourism, on the Aktywnie 365 profile
information in newsletters sent to TOUR SALON visitors
a mention in press releases sent to the media on a regular basis.
The above activities are executed optionally and free of charge on the basis of the materials submitted in the following languages: Polish and English.