Tickets for the Tour Salon 2023 fair are available online at ToBilet.pl.
Tickets for TOUR SALON FAIR 2023
The purchased tickets also entitle you to enter the Travel Festival "Śladami Marzeń", Family Travel Festival TupTup, Caravans Salon Poland Fair, Yacht Salon Fair.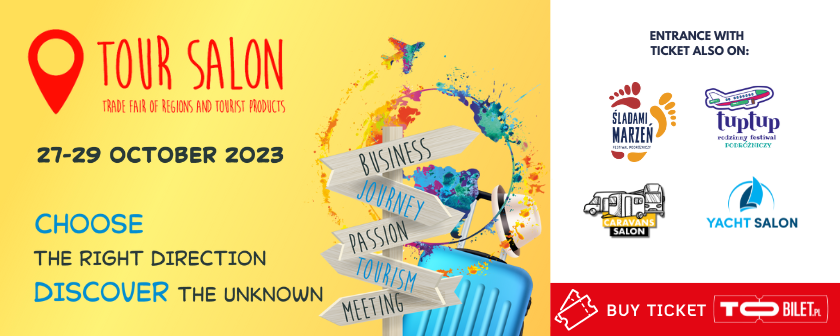 OPENING HOURS:
Friday (October 27): 10.00 a.m. - 6.00 p.m.
Saturday (October 28):od 10.00 a.m. - 6.00 p.m.
Sunday (October 29): od 10.00 a.m. - 4.00 p.m.
PRICES AND TYPES OF TICKETS: 
There are sales thresholds on fixed dates - the earlier you buy a ticket, the cheaper you pay.
Single entry ticket:

 

50 PLN 

Multiple entry ticket:

80 PLN 

Tickets for child up to 12 years old and for people with disabilities:

30 PLN

 

Tickets with Large Family Card*

: 30 PLN 

Tickets for child up to 6 years old**:

 

0 PLN 
* The Large Family Card must be presented at the entrance to the fair.
** Children up to 6 years old enter for free, while parents are obliged to collect a child ticket for PLN 0. To do this, click on the "Buy a ticket" button and find a ticket for PLN 0 for a child.
BUY TICKETS ONLINE on ToBilet.pl >>>

Do you have any questions?